Are there Drawing Tablets That Don't Need A Computer connection to use? The answer is yes. Traditional tablets are great, but you need a compact tablet with an in-built computer that you can carry anywhere as a modern artist or graphic designer.
Standalone tablets come with numerous advantages. One of my favorite features is that you don't have to connect your tablet to your computer every time you want to draw. They are therefore fully portable.
Some art tablet brands such as Simbans Picasso Tab and Samsung galaxy tablets, have in the recent past created very affordable standalone drawing tablets that run on the android operating platform. Although they are nice and cheap, Huion and Wacom brand stands out with their professional level drawing tablets.
What is the best standalone drawing tablet for you?
If you want the other alternative types of tablets that need a computer connection, you can choose drawing tablets with a screen. There is also an alternative of screen less drawing tablets, which are the cheapest you can buy.
For that reason, we will make it easier for you by reviewing the best drawing tablets that don't require to be connected to your PC or MAC to work.
Top Picks
Here is a list of 10 best Drawing Tablets That Don't Need A Computer. If you are on a budget however and need a good but Cheap Standalone drawing tablet with a screen, just check out our previous posts.
10 best drawing tablets that don't need a computer
Apple iPad Pro 12.9 Inch
Best Drawing Tablet
What draws us to love this standalone tablet is the speed of this robust drawing tablet that your computer might not even meet up. It also has a Liquid Retina Display that offers a superior color representation displaying every detail with its superb resolution.
Apple iPads are popular and the best choice for artists and graphic designers. This time around, Apple came first in this review because of the possibilities it offers you as an artist. It's not just about our sentiments, iPad is obviously the most recommended and most loved when it comes to drawing tablets.
You will love how your images look attractive and alive in this iPad drawing tablet. Nothing motivates an artist other than a beautiful view of their project with vivid color.
The only downside of this Apple iPad is that you will have to purchase a pen separately. But that does not exceed the intuitive interface of this standalone drawing tablet's operating system and the iOS art programs.
If you're looking for an unobtrusive, hard, and light standalone tablet, you won't go wrong with this Apple iPad Pro drawing tablet.
Do you want a tablet with a reliable operating system, a great and natural pen, and an incredible configuration? We bring you this incredible standalone tablet that lets you work on your projects without worrying.
When you are drawing switching from brush to brush or to eraser means you have to pause and go to your device and change which can interrupt and slow your workflow. The new Apple pencil makes up for this with a simple tap to switch function from brush to eraser or vice versa.
It does not come with a pen you can get your Apple Pen replacement here. Some artists find the pen a little slippery but that is easily sorted using an Apple Pencil Grip
Can you use Apple iPad Pro 12.9 Inch without a computer
Yes. You do not need a computer connection to use this tablet.
Pros
It has an incredible display
Impressive art software
It has a strong, quality, and attractive build
Has a sensitive, precise, and accurate pen and screen
Cons
You have to purchase the pen separately
Expensive
Best Professional Wacom Standalone Drawing Tablet
The Wacom Mobile Studio Pro 2ND Gen is a standalone tablet for those who don't mind spending more on a drawing tablet. Wacom Mobile Studio Pro is specifically designed for artists and graphic designers, and it doesn't need any connection to your computer for you to work.
This tablet's price is high, but it also has numerous features that will make your drawing experience fun and flawless.
Wacom Mobile Studio comes with an inbuilt computer. It has all the features you need from your computer, so it enables you to work from anywhere.
It doesn't matter if you're a pro artist or a beginner, this robust tablet is easy to use, and you will love how you can use all the drawing applications from your portable tablet.
That's not all. This standalone drawing tablet has 8 shortcut buttons that you can customize to perform any shortcuts. It also has a touch ring that you can utilize to perform other complex shortcuts when working, like changing your eraser's size or brush.
Worried that you are left-handed? You don't have to because anyone can use this Wacom Mobile Studio tablet. It doesn't matter if you're right or left-handed.
Are you a professional graphic designer/artist who wants a tablet to fit your modern artistic skills? Then this tablet is a perfect match for you.
Yes. You do not need a computer connection to use this tablet.
Are there Any Huion and Wacom Standalone Tablets
We have mentioned above that popular brands for standalone tablets are Apple, Samsung and Simbans however as an artist, you may be asking whether there any Wacom tablets that do not need a computer connection, or which Huion tablets standalone.
The answer is yes. The 2 top players in the drawing tablets world also have a tablet in this category. Wacom Mobile Studio Pro (2nd Gen) makes our list for the Best Wacom Standalone Tablet and HUION KAMVAS PRO 22 is the Best Huion Standalone Tablet.
Pros
Has shortcut keys
Can run all Windows apps
It has a matte display
Has 4K display
It has a 15 inches
Cons
It has a short battery life
Best Budget Standalone Drawing Tablet
One of the main reason most artists opt for pen display talets over standalone drawing tablets is because most of them are very expensive. If you are on a tight budget but still need a good cheap standalone drawing tablet, then the CHUWI UBook is the tablet for you.
The Chuwi Ubook tablet is very fairly priced despite parking great features. First of all it has a large 12 inch highly senstitive screen only 0.9 inches smaller than the top pick Apple iPad Pro. The screen supports 4k video display with upto 2160 x 1440 Pixels resolution.
The light build and up to 6 hours battery life make the CHUWI UBook highly portable and you can easily move around with it. The tablet can easily multi task thanks to the 8 GB RAM and the intel 1.1 GHz celeron_n processor.
Although its a great priced tablet the pen is not the best with low pressure senstivity at 4096 pressure levels.
Pros
Affordable Price
Great Display
Cons
Not the best pen pressure senstivity
Best standalone drawing tablet for beginners
Simbans Picasso Tab is a great drawing tablet that you can get at the lowest budget, and it comes with a stylus pen and an Autodesk Sketchbook App pre-installed.
The tablet uses a MediaTek Quad-Core Processor, and 2GB RAM that makes it easy to multitask. That's not all. Simbans Picasso has a high resolution up to 1280×800 pixels that produces clear images. Additionally, the 10 inch screen size makes drawing and watching movies easy and comfortable.
We love how easy it is to work from anywhere with this tablet, and you can also connect it to Wi-Fi. The Simbans Picasso is a great pick at a perfect price for beginners. It is also good for sketching and actually the cheapest standalone tablet in this list.
Another great thing is that on purchase, you will get a free screen protector, drawing glove, charger set and cool leather case all in the box for free.
Unfortunately, if you are serious with your art then we recommend spending a little more for the professional level tablets such as Wacom Mobile Studio Pro or HUION KAMVAS Studio PRO 22.
The tablet is good as you start off and sketching but not in the best in the long run. Check out our Simbans Picasso Tab detailed review.
Can you use Simbans Picasso without a computer
Yes. You do not need a computer connection to use this tablet.
Pros
Cheap than most drawing tablets
Offers flawless multitasking experience
Cheap standalone drawing tablet
Despite the competition of drawing tablets in the market, Samsung hasn't stopped introducing newer products and luckily, they are doing so while considering different budgets. Samsung Galaxy S6 Lite tablet is a better version of the Samsung Galaxy Tab S6. The Galaxy S6 seems to have many unnecessary features and a bit expensive, but these guys have tried to improve their game by bringing you S6 lite, which is better and cheaper.
Not everyone can afford a high-end standalone drawing tablet, and that is why there are tablets that will give you the same drawing experience at a lower price, and Samsung Galaxy Tab S6 Lite is a good example.
Although there are many cheaper tablets in the market, we can confidently say that none will beat the Samsung Galaxy Tab S6 Lite drawing tablet. It has a 10.4 inch screen, an aspect ratio of 5:3, and an impressive resolution of 1200×2000 pixels.
The processor speed is also as fast as that of your computer, and you can actually hold this tablet and work for hours without getting tired.
Samsung Galaxy Tab S6 Lite also has a long-lasting battery, and you can run some android apps on it effortlessly.
If you want a budget-friendly standalone tablet, you definitely won't go wrong with it. If you're a student, you can also take notes using your tablet and save multiple projects.
Can you use Samsung Galaxy S6 Lite without a computer
Yes. You do not need a computer connection to use this tablet.
Pros
Affordable with great features
It comes with a great stylus
It has a good battery life
Great speakers
Great display
Cons
The processor might not be that efficient for huge projects
Best Standalone Drawing Tablet Under $1000
Are you still finding it hard to pick a standalone drawing tablet? Why not check out this under $1000 budget drawing tablet from Microsoft? With this Microsoft Surface Pro 7, you can do a whole lot of things from drawing, writing, play and work without any hassles.
Microsoft Surface Pro 7 has a portable design with a screen of 12.3 inches, and it offers you a flawless experience when drawing. This utilizes Windows 10 for the operating system; thus, you don't have to worry about not using your drawing applications from this robust tablet.
We love the most about Microsoft Surface Pro 7 because there are different options for you to choose from when it comes to configuration, from storage to the processor and even RAM.
The stylus pen of Microsoft Surface Pro has tilt and pressure sensitivity. It also has a rubber tip that is easy to work with and grips the glass screen giving you an awesome drawing experience.
We love this standalone drawing tablet because you can actually handle multiple tasks simultaneously without it dragging.
Can you use Microsoft Pro 7 without a computer
Yes. You do not need a computer connection to use this tablet.
Pros
It has a large display
Compact design
Windows 10 operating system
Available in multiple configurations
Excellent stylus
Cons
Heats up after long use
It doesn't come with a stylus pen
Best Huion Standalone Drawing Tablet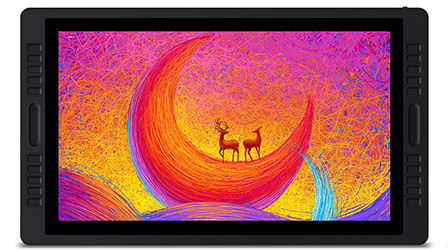 Huion is a massive multifunctional tablet that can replace your dedicated drawing tablet and computer because it has an inbuilt computer.
This tablet comes with a massive screen of 22 inches unlike most tablets that has 10- 13 inches. With this Huion, you have more than enough room to showcase your artistic prowess.
Huion also comes with an incredible stylus pen with 8192 pressure levels sensitivity and tilt sensitivity.
Unlike other tablets screens that tend to get scratched after working on them for sometimes, Huion comes with a tough etched glass that provides a good texture for drawing as well as protection.
One thing that we love about this tablet is that it comes with 20 programmable shortcut keys and it has two touch strips on the sides of the screen.
Can you use Huion Kamvas pro 22 without a computer
Yes. You do not need a computer connection to use this tablet.
Pros
Has a big screen
Great color accuracy
Comes with a stylus with great sensitivity
Strong build
Comes with free accessories like mouse and keyboard
Cons
The design of Huion is average
Apple iPad Mini is another incredible standalone tablets that's more powerful and also portable. This tablet has been upgraded to ensure that you get the best drawing experience.
This tablet has a small screen of 7.9 inches and a Retina display combined with true tone color allowing you to work on your projects while seeing every bit of the details.
The Apple iPad Mini has a Bionic chip that enables it to handle large files and also enables the tablet to multitask without lags.
What we like about this tablet is that despite being small, it has all the incredible features that other larger tablets has and its portability makes it even better to work with.
Pros
Highly portable
Has a fast processor
Has an amazing stylus
Good battery life
Cons
Large Bezels
Doesn't come with a pen so you have to purchase the pen separately
Best Portable Standalone Drawing Tablet
Apple iPad Air is a cheaper alternative to Apple iPad Pro. If you feel like the price of the Apple iPad Pro is beyond your budget, then you might want to check out this Apple iPad Air.
Apple iPad Air comes with an upgraded brand new look packed up with incredible high-end features at an affordable price.
When it comes to the screen, this iPad Air has minimum bezels just like the iPad Pro and the latest generation processors for a faster and smooth performance.
The previous version of iPad Air only supported the first generation Apple pencil but this tablet supports Apple Pencil 2 hence improving your drawing experience at an affordable cost.
The screen of Apple iPad Air is 10.9 inches making it compact and giving you enough room to work on your projects. It also has an amazing battery with a long battery life.
Pros
Affordable
Great value for money
Fast processor
Slim and portable
Amazing display quality
Cons
You will need to purchase the Apple Pencil separately
Best Android Standalone Drawing Tablet
Finding an android tablet with a big screen can be a tough especially in a market dominated by Apple's.
However, the Samsung Galaxy Tab S7+ is a game changer because it comes with a big screen (12.4 inches) and other powerful features which makes it the best android standalone tablet you can buy.
Samsung Galaxy S7+ is not just a regular big screen tablet. This tablet has an inbuilt computer and can handle all your huge projects without any hitches.
The tablet has an incredible AMOLED screen with a powerful chipset with 5G. This tablet also has a powerful and large battery that enables you to work for long hours without charging.
We love how seamless it is to switch between the tablet mode and desktop mode. To cut it short, Samsung Galaxy S7+ is a great choice for artists and gamers and you might just want to reduce clutter on your working space by simply buying this two in one tablet.
Pros
Super AMOLED screen with high resolution
5G Connectivity
Powerful battery with fast charging
Wireless DeX mode
Active S-pen
Microsoft Surface Book 3
Microsoft Surface Pro Book is basically a flying car. Nothing feels good like having a laptop that you can easily turn into a tablet.
Microsoft Surface Book is a laptop that can be turned into a tablet while a Microsoft Surface Book 2 is a tablet that can be turned into a laptop. Microsoft has done a superb job to ensure that their users get a flawless experience with their amazing products.
With this convertible laptop, you get a standalone tablet that you are looking for, packed with all the stellar features you need to upgrade your artistic game.
The Surface Book 3 has a 13.5 inch screen and a sharp color display in enhanced RGB.
We love the overall build of this but the table screen is a bit heavier. But that is not a deal breaker because its aluminum finish feels incredibly smooth to touch.
Pros
Great performance
Beautiful design
High resolution screen
What to consider when buying a Standalone drawing tablet
Now that you have gone through our best drawing tablets that don't use computer review, it's good for you to know what you need to consider when purchasing your standalone drawing tablet. Below are some of the things you should look out for:
Display Quality
As an artist, the display quality is crucial and should be the first thing you check before you pay for your drawing tablet. If you don't want a screen that reflects, we recommend you go for a matte screen. A good example of a drawing tablet with a matte display is Wacom Mobile Studio.
Color Accuracy
You want to produce high-quality images. Therefore you need to choose a tablet with high color accuracy. Apple and Samsung have tablets that have great color accuracy, so you can never go wrong with these two brands.
Stylus
It's hard to produce accurate drawings without a stylus pen, and thus it is a crucial accessory. If you're team matte screen or glossy screen, you will have to pick the right one that makes it easy to draw.
Additional Features
Choose a drawing tablet that covers your needs. As an artist, you need to identify the things you want your standalone drawing tablet to do for you. If you feel you're in a dilemma and don't know what to buy, choose a tablet with additional features that will add an advantage to your drawing experience.
Final Word
After going through this detailed review, you definitely have an idea of what you want. There are numerous standalone drawing tablets, and some are pricey while some are cheap. If you want a long-lasting solution, avoid purchasing extremely cheap standalone drawing tablets because they won't serve you for long.
What is a Standalone Drawing Tablet?
A standalone drawing tablet is a drawing tablet that has a built-in computer so you can handle everything on it without connecting it to your computer.
Standalone drawing tablets are now common, and many artists and graphic designers are replacing the traditional drawing tablets with standalone drawing tablets.
what is the Difference Between Drawing Tablets With Screen And Standalone Drawing Tablet
A drawing tablet can either be dependent on a computer connection or not. This means that, there are 2 types of drawing tablets, the ones that do not need a computer and you can install software in them. They are also called standalone tablets or fully portable drawing tablets.
The other type of drawing tablet must have a computer for 2 main reasons. The first main reason is that although they have a screen, they do not have a computer and rely on the software installed on your computer.
There are also some that have no screen and no computer and rely on the computer for both the screen and software. Most of them are very cheap drawing tablets but equally provide quality work.
Conclusion
If you are looking for a powerful professional-level tablet you can use for both graphic design and drawing, then Wacom Mobile Studio Pro. This tablet packs more power and pro level features that will make designing easy and fast.
Unfortunately, it is a little expensive compared to other similar devices that are equally professional such as HUION KAMVAS Studio PRO 22 from Huion. Apple iPad Pro 12.9 Inch (512GB) takes the Best overall spot although you will still need a high budget to get it.
If you are on a budget we recommend Simbans Picasso Tab 10 Inch or CHUWI UBook Tablet which are great for beginner artists and graphic designers. These two tablets are cheaper but smaller and are recommended for sketch work mostly.
However, I would prefer an Android tablet such as Samsung Galaxy Tab S6 Lite instead of the 2 best budget tablets. This is because of its features and professional level Wacom 2 stylus. The price is also great and it almost makes it as one of the Best tablet under 300$.
best Standalone Drawing Tablets Overview
Just Creative Designs is a participant in the Amazon Services LLC Associates Program, an affiliate advertising program designed to provide a means for sites to earn advertising fees by advertising and linking to Amazon.com.