A Minimalist logo or Minimal design are not new concepts but due to their cool look and attractiveness, are a very popular trend in graphic and digital design.
However, many business owners do not know what a minimalist logo means or which popular brands have minimal logos.
Minimal logos are a type of logo design that represent a single fundamental concept that can be used on different backgrounds avoiding using bunches of elements such as gradients, textures and extras that can otherwise clutter the design.
If you however wish to try a DIY Logo maker, please go to How to make a Logo in 3 simple steps
Seller List
Benefits of a Minimal Logo
The main benefits of minimalist logos, is their simplicity. Simplicity ensures that the logo is captivating and memorable to your clients and everybody who looks at it.
Minimalist logos have simple colors that can be easily replaced and used to match different seasons, keeping the brand relevant across seasons.
When you view the logos on a small screen maybe mobile or tablets, they retain their impact and memorability.
Memorability and simplicity are some of the main factors that make a good logo. To understand what makes a good logo in depth, please check out my previous article. Brand Identity, All you need to know about Brand Logos
In this article I will review 5 of the best minimalist logo designers you can hire today to start your journey in creating a brand image for your business. Before we go to them however, let me first share 4 examples of popular brands that have maintained a strong brand identity using minimalist logos.
4 Popular Brands with Minimalist Logos
Now that you understand what minimal logos are and their ability to create an impact, here are some popular brands that have used this approach for their logos.
Nike
Nike is an American based multinational Brand famous the world over for manufacture and distribution of footwear, apparel, equipment and accessories.
According to what we can only call internet mythology, it is said that designer Carolyn Davidson came up with the Swoosh in the logo to represent the wings of the Greek goddess of victory. Whether this is true or not is up to discussion. You can read it in Creator of Nike's famed Swoosh remembers its conception 40 years later.
The Brand logo means different things to different people but we can all agree, it is highly captivating, simple and memorable.
The logo was designed in a font that resembles a modified version of the Futura font Family. The nearest font is Futura Condensed Extra Bold Oblique.
It is also almost impossible to ignore their awesome tagline that some times accompanies the swoosh Logo.
UBER LOGO
Uber, is an American company that offers vehicles for hire and recently food delivery, package delivery services among other services.
Their wordmark logo is a good example of a minimal logo. It is simply their name typed in a unique font family. The Uber logo uses MCKL type family.
Supreme Clothing
Supreme clothing also uses a logotype king of minimal logo. The font used seems to be Futura Bold Italic and a great use of their brand color red makes it captivating and simple at the same time.
Apple Logo
The Apple Logo is a perfect example of a logo that has evolved over the years to be the perfect example of a sleek minimal monochrome logo.
Best minimalist logo designers for hire in 2021
Best Minimalist logo designers under 100$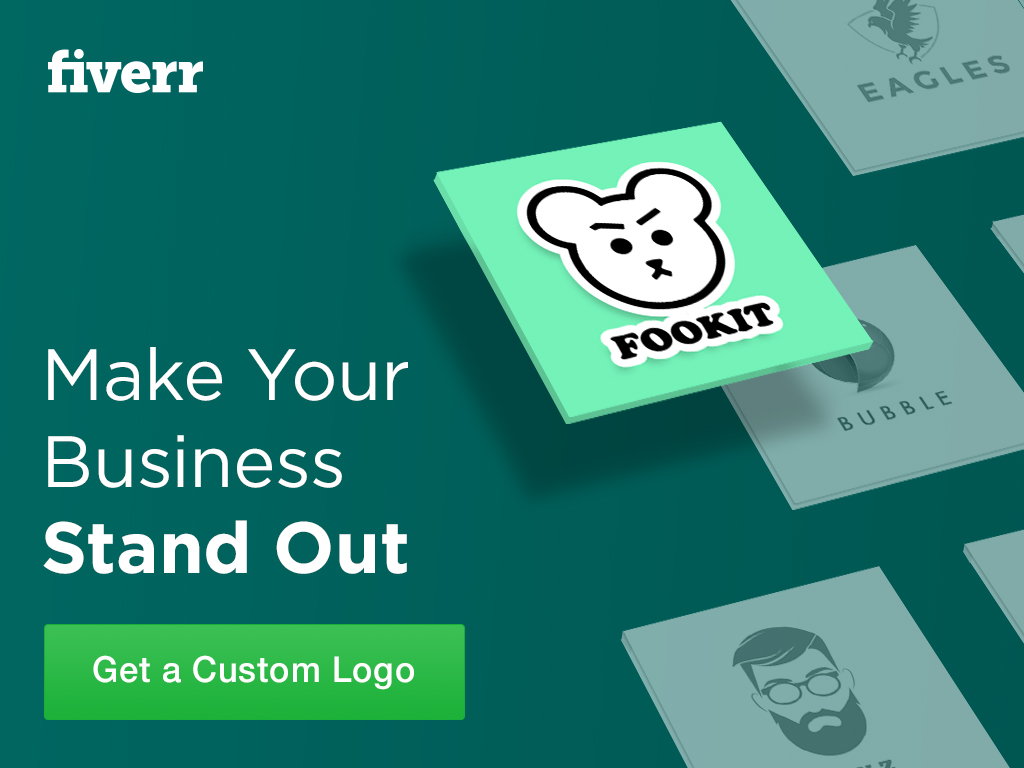 What do you consider before hiring a logo designer?
Before you hire a freelancer or brand agency for your logo design, ask yourself the below questions.
How many design options will you get?
What time will the process take?
How many revisions will be available for you?
What do the clients say about your designer of choice?
What packages are offered and exactly what is the difference between each.
Most importantly, how much is each package. We will use this metrics to analyze the services.
Tips when designing a minimal logo design
One of the best ways you can develop a modern and cool minimalist logo is by combining a text and symbol design relevant to the brand in a clever manner.
Gradients
Be careful when using gradients in creating minimal logos because gradients do not appear simple.
Start by designing your logos in greyscale before adding color to it.
Typography
Typography alone is a great approach when creating a logo. This calls an eye for design and a creative experienced graphic designer.
For instance, the eight logo below is basically font based and well represented.
Simplicity
When creating minimal logos it is a great idea to create logos in different levels of simplicity.
Have 3 different versions with different levels of simplicity so that you balance between being too simple and abstract with the idea.
Negative space is an awesome way a designer can use to create interest and intrigue in a brand logo.
Best minimalist logo design services under 10$
Weperfectionist will design unique and original logo for your brand. We will concentrate on the basic 10$ package which provides 2 Basic Logos and a standard high quality mock up. Delivery will be done within 2 days and you will have a maximum of 3 revisions.
However the package does not cover complex logos or mascots .
You will not get a source file for the logo.
For me is a major downside but 10$ is still a great deal though.
Here are some samples by the seller. See more packages from the seller.
ingeniousarts will offer awesome logo designs. The best thing is that in all the packages you will get the vector source files for the logo done even on the 10$ package. The package will offer 3 basic logo designs and vector files. You will have a maximum of 4 revisions and delivery will be done within 24 hours. Here are some samples; See more packages from the seller.
Thedesignaffair also offers a 10$ minimalist logo package where you will get 2 Basic logo designs .
A transparent background PNG FILE. You will also get the source files in .AI and .EPS. See more packages from the seller.